History - Grupo Senzala
Capoeira Senzala was formed in the '60s by young capoeiristas who trained under the leadership of brothers Rafael and Paulo Flores Viana: Mestre Gato, Mestre Garrincha, Mestre Gil Velho, Mestre Sorriso, Mestre Itamar, Mestre Peizinho, Mestre Claudio Danadinho. Since then, Senzala sought always to improve, through contacts with other capoeiristas, researching teaching methodologies, and seeking grounds with the old guard of capoeira in several visits to Salvador, Bahia.
See more about the group by clicking the link above.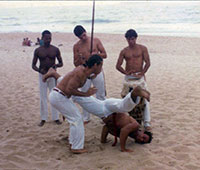 José Elias da Silva, born in Recife, practitioner of the art of Capoeira since 1968, met in 1976 in Rio de Janeiro, the work of the Group Senzala, where he became familiar with the fundamentals, technique and teaching developed by the group.
Learn more about Escola de Capoeira Grupo Senzala and Mestre Elias on the link above.